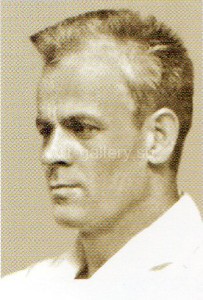 A prominent sculptor from Lugansk – Victor Ivanovich Mukhin.
He was born September 28, 1914, in Gorlovka (formerly S. zaytsevo).
After finishing school, he entered the Kiev art Institute and graduated with honors in 1938.
On the eve of the great Patriotic war, Viktor Mukhin moved in the Lugansk (then Voroshilovgrad), where he lived all his life.
Victor Ivanovich Mukhin worked in Lugansk art school, headed the regional Union of artists and naturally engage in creative activities.
After the war, Mukhin, head of the group of sculptors, who began to work on the iconic monument of the Luhansk region, the monument to the Young Guard.
The result of painstaking work was the discovery in 1954 in the center of Krasnodon the monument to the Heroes of the Young Guard, a commemorative monument has received the name – "the Oath".
Besides the monument to Victor Ivanovich has worked on many other monuments, so he together with Ovcharenko, Fedchenko and Chumak created the monument "Ukraine – to liberators", which was established on 7 may 1972 in p. chalk.
In Lugansk, there is also the work of Viktor Mukhin, the composition of the memorial complex "Acute Grave", is a monument to "the Banner doesn't die", which was created by Victor Ivanovich.
In addition the city itself is a monument to V. I. Lenin (Lenin center), which he created together with I. Chumak, V. Agibalova and V. Fedchenko, in 1955.
For his contribution to the culture of Victor Ivanovich Mukhin was awarded the order of red banner of Labor, and in 1973, at the monument "Ukraine – to liberators" was awarded the State prize of Ukraine named after Taras Shevchenko.
Died Viktor Ivanovich in Luhansk, February 9, 1977.
On the house where lived Victor Mukhin (street Demehina 27), is a memorial plaque in memory of the great countryman.