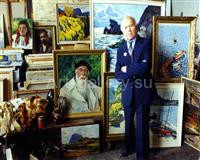 Isaac Tartakovsky I. 1912 – 2002
Ukrainian painter. People's artist of Ukraine.
Isaac I. Tartakovsky was born 25 April 1912 in the town of Volochisk (Khmelnytskyi region) in a family of teachers.
In 1919, the family of the artist moved to Kiev. At the age of fifteen Isaac was enrolled in the art and industrial school, from which he graduated in 1929. His teachers were such outstanding teachers and artists as K. Trokhymenko and K. Yeleva.
From 1932 to 1937 enrolled at the Kiev Institute of cinematography in cameraman Department at the Studio Dovzhenko, and graduated with an honors.
Before the war he worked at the Kiev film Studio, where together with M. Umansky participated in the creation of the movie "Alexander Parkhomenko", "Big life".
The participant of the great Patriotic war.
Demobilized after the war, Isaac Tartakovsky entered the Kiev art Institute. His teachers were A. Shovkunenko, M. Sharonov, K. Yeleva, V. Kostecki, I., Stillman, S. Grigoriev, T. Yablonska.
Takes part in art exhibitions since 1949 in the Republican and all-Union, and since 1951 – and in the international.
Studies he graduated in 1951 with honors his thesis "On the watch world."
A member of the Union of artists of the USSR.
In 1976, I. I. Tartakovskii was awarded the title of Honored artist of Ukraine, and in 1993 he was awarded the title people's artist of Ukraine.
Author of numerous thematic paintings, eye-catching imagery and a sincere love of life.
He went into the history of Russian art primarily as a portraitist, the artist painted many exquisite landscapes and still lifes, especially in the last years of his life.
In the 1990-ies. I. I. Tartakovsky turns to the theme of the genocide of the Jewish people, he creates paintings on this theme.
Award: "Master Golden hands"
He died 18 Jun 2002 in Kiev.
The works of Isaac I. Tartakovsky is stored in the National art Museum of Ukraine, Dnipropetrovsk, Donetsk, Simferopol, Sevastopol art Museum, Feodosia art gallery, etc., in galleries and private collections in Ukraine and abroad.