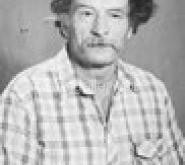 Shulika Mykola Ivanovych
Life motto Nikolai Ivanovich Szulik is defined by two words – "truth and justice".
Draws Nikolay Ivanovich, from childhood, from 1959 exhibited his works. His teacher was the painter Alexander Filbert.
Nikolai Ivanovich participated in exhibitions in Kiev, Kharkov, Lugansk, Belovodsk, Starobilsk, Svatovo. His works were printed in the Newspapers: "Very Kyiv" (1996), "Our newspaper" (№ 10, 1999), "Bahmutskiy way", (no. 1-2), "Nasha Gazeta" (No. 14, 2001).
"Almighty" is his own favorite picture, which, according to the author, different from other works of "energy density".
The theme of the works of Nikolai Ivanovich – unity. He was impressed with the creativity of Vrubel, Nesterov, Michelangelo.
From Lugansk artists Nikolay Ivanovich "for the love of life and the person for teacher talent-the artist" highlights the work of A. T. Filbert and Capcanes.