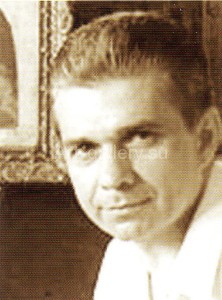 The philosophy of his works Vladimir Igorevich formulated a rather original way: "To all (my painting)!", and about its activities responded simply: "My paintings are hanging on the walls, and thus is exhibited around the world."
To draw Vladimir Panich started 2 years, exhibit — 7. His teacher of painting was his father — honored artist of Ukraine Igor Vasilyevich Panich. The theme of the works of Vladimir Igorevich — "love to love".
Motto in life — "more!".
Personal exhibitions:
1980 — Art Salon, Lugansk, Ukraine
1993 — art gallery Kharkiv, Kharkiv, Ukraine
Group exhibitions:
1967 — Regional competition of children's drawing, Lugansk, Ukraine
1980 — Regional exhibition of young artists at the Union of Ukrainian artists, Lugansk, Ukraine
1982 — Group exhibition of young artists in the Bulgarian cultural center, Kiev, Ukraine
1983 — exhibition of the academic drawing, artists House, Kyiv, Ukraine
1983 — Art fair "Pictures at an exhibition", Donetsk, Ukraine
1985 — "Traditions and modernity", Donetsk art Museum, Ukraine
1987 Autumn exhibition of graphic art, Moscow, Russia
1988 — Group exhibitions of Lugansk artists "Art among us", Donetsk, Kharkiv, Lugansk
1989 — "Art-Myth", Manege, Moscow, Russia
1995 — "Metamorphoses of paper", Moscow, Russia
1996 — "Gentle phantom", Gallery "Albatross", Moscow, Russia
1996 — "Rendezvous Of Epochs", Gallery "Proving Now", Kiev, Ukraine
1998 — "Eidos", Youth Palace, Kyiv, Ukraine
1999 — "platitude", gallery "West", Kharkov, Ukraine
2002 — international art fair "Art-Manege", Moscow, Russia