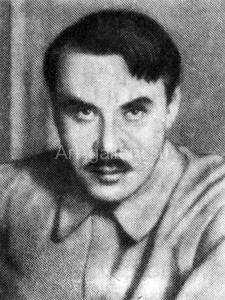 Kravchenko, Alexei Ilyich (1889-1940). Russian artist, master of easel and book graphics, representative of symbolism and art Nouveau.
Was born on 30 January (11 February) 1889 in the Pokrovskaya Sloboda (now Engels, Saratov province) in a peasant family. Studied at the Moscow school of painting, sculpture and architecture (1904-1905, 1907-1910), where his teachers were S. V. Ivanov, K. A. Korovin and V. A. Serov, as well as in school sh holloshi in Munich (1906). At various times visited Italy, India, France and the United States. He was a member of the "Itinerants Society" (from 1915) and the Association "Four arts" (from 1925). Originally worked in Saratov (1918-1921) — as a painter of scenes and festive propaganda, then settled in Moscow.
Acted primarily as a graph (in the techniques of wood engraving and linoleum, etching and drawing). Willingly turned to tempera and watercolors. Developed the principles of symbolism and art Nouveau in their more traditional, in opposition to the avant-garde vein. His landscape series is imbued with a romantic nostalgia for the beauty (Russian landscape, 1908-1916; India, 1913-1914; Italy, 1910-1911, 1925-1926, Paris, 1926; In the Caucasus, 1934); American skyscrapers even find his likeness Baroque palaces (new York. Central Park, woodcut, 1929). After the revolution easily connect this romanticism to the program of socialist realism, giving it a historical-revolutionary or industrial sounding (lots of women's Lives in past and present, 1928; Lenin's Mausoleum, 1930-1933; for example, 1930-1931); on the background of the average exhibition of the products of the interwar years, these leaves stood out for their refined aesthetics. In his large oil painting, immersed in the world of theatrical fantasy (Venetian feast, 1919-1921; Kiss, 1930; both works — in a private collection, Moscow). The underlying credo of romantic-aesthete, apparently, is best expressed in easel woodcuts Stradivari in his workshop (1926), which is like an allegorical self-portrait.