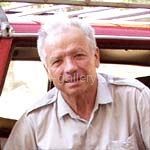 KIKINEV Vasily Matveyevich (born. 1930) – Ukrainian artist, painter,
honored artist of Ukraine (since 2007 ).
Lives and works in Lugansk.
Graduated from the Lugansk art College (1954).
Since 1980 – member of the National Union of artists of Ukraine.
Exhibition activity began in the 1960s up To the present time is an active participant of all-Ukrainian exhibitions.
Works in easel painting, the author of a large-scale thematic paintings, dedicated to miner's labor, colourful, colorful still life, lyrical landscapes.
Works are kept in private collections, Lugansk regional art Museum.
IN S WITH T AND IN AND TO:
(optional)
2000 – "Slobozhanskiy meadow", Lugansk.
2001 – "Ukraine – 10 years of independence", Kyiv.
2002 – "Art", Moscow.
2003 – "Stone the color of the Lugansk earth", Kiev.
2004 – exhibition dedicated to the 190th anniversary of T. G. Shevchenko, Kiev.
2005 – Exhibition of Ukrainian artists, Chicago.
P E R S O N A L L N E S
IN S WITH T AND IN AND TO:
1970, 1980, 1985, 1987, 2001 – Lugansk.
2005 – House of artists, Kiev.
2007 – gallery "University" of National University. Taras Shevchenko, Kiev.
2008 – Anngallery, Kiev (Kyiv).