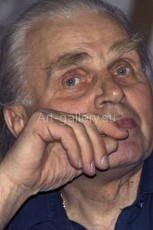 Born in 1942. Zaporizhzhya region.
In 1967. He entered the Lugansk art College.
In 1970. Entered the Kiev art Institute, Studio of Prof. Bubble.
Since 1977. combine creative and teaching activity. Currently teach at Lugansk Institute of culture and arts.
A member of the Union of artists of Ukraine.
The main direction in art is abstract and meditative painting and installations.
I believe that art should carry the spirituality and light.
In 2010. published a book of reproductions of paintings meditative "Get to the bottom of the truth."
Forthcoming second book "Behind a thick curtain of light".