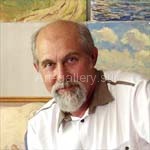 the Dream of the artist "to explore all styles and find your".
Draw Sergei Stepanovich Bumps started from 8 years to exhibit their work – with 30.
Philosophy of his work – "beauty will save the world". This can be seen in all the paintings: landscapes, portraits, still lifes, genre paintings, icons.
Sergei Stepanovich like Rublev, Cezanne, Savrasov, Serov.
"How deep is the master of painting" artists of Lugansk region Sergei Tubercles distinguishes K. I. Gubsky.
Personal exhibitions:
1996 – Personal exhibition devoted to the 50 anniversary of the artist, Lugansk, Ukraine
2000 – Personal exhibition, Donetsk, Ukraine
Group exhibitions:
1976 – Regional exhibition of young artists, Kharkiv, Ukraine
1977 – Exhibition "One work", Lugansk, Ukraine
1979 – Regional exhibition devoted to 160-th anniversary of the birth of Taras Shevchenko, Kharkiv, Ukraine
1980 – Regional exhibition "Peace to each ", Lugansk, Ukraine
1985 – Exhibition of Ukrainian artists, Poznan, Poland
1986 – the Moscow house of scientists, Moscow College of contemporary art, "Exhibition Presentation"
1987 – gallery "House", Union of artists of Ukraine, Kyiv, Ukraine
1988 – "Students-88″, House of artists, Union of artists of Ukraine, Kyiv, Ukraine
1989 – Ukrainian exhibition of painting, Donetsk, Ukraine
1993 – "World of color", Art Museum, Kharkov, Ukraine.
1995 – Exhibition "Moments of creativity of soul", gallery "On Sandy", Donetsk, Ukraine
1997 – "Christmas exhibition", publishing house "Our Isograph", Donetsk, Ukraine
2000 – Exhibition "Ecology and quality of life of the XXI century", Kharkov, Ukraine
2001 – "Apple spas" (Bulgarian culture center), Kiev, Ukraine